The 2022 Subaru Love Promise Customer and Community Commitment Award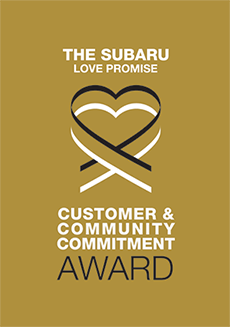 We've been nationally recognized for our dedication to our customers, our community, and the Subaru Love Promise.
We're honored to receive the 2022 Subaru Love Promise Customer and Community Commitment Award. This award nationally recognizes elite Subaru retailers who provide an exceptional customer experience at every interaction with Subaru. These retailers have also demonstrated an outstanding commitment to supporting passions and causes in their local communities in important areas such as the environment, community, health, education, and pets.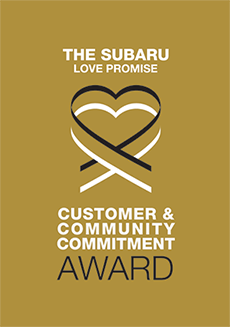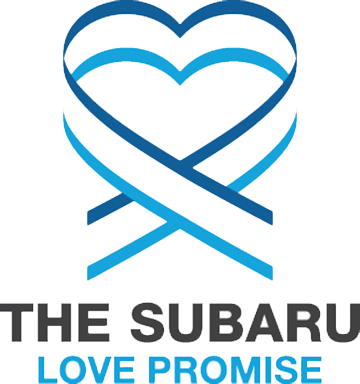 What is the Subaru Love Promise?
Subaru and our retailers believe in making the world a better place and the Subaru Love Promise is our vision of respecting all people. This is our commitment to show love and respect to our customers and to work to make a positive impact in the world.
How is Fred Beans Subaru dedicated locally to the Love Promise?
Our Love Promise can be seen in various partnerships with local charities and non-profits. We're grateful for the opportunity, not only to be a part of our community, but to serve it as well.
Almost Home Dog Rescue, SPCA of Bucks County, Animal Lifeline of Bucks County
Tera Cycle, Green Dealer Award
The Pathway School, The Nexus School
Bucks County Opportunity Council, Hope of the Harvest Food Bank, Special Equestrians of Warrington, Coalition to Shelter and Support the Homeless
The Cancer Institute of Doylestown Hospital, Leukemia & Lymphoma Society
Love Promise Stories from Fred Beans Subaru
Subaru and Fred Beans Subaru believe in making a positive impact on the communities in which we live and work. We uphold that belief through our Love Promise Community Commitment. Every month, we select inspiring stories from customers and partners from around our area who strive to support our collective commitment and feature them here
FOSTERING HOPE - MELISSA C
Fostering Hope Bucks is a 501(c)3 nonprofit dedicated to offering meaningful help to families and children in foster care. We are excited to partner with Fred Beans Subaru and their Heart Pillars. The combination of two organizations is one that is a perfect fit. By working together to support our community we are hopeful to make a lasting difference in the lives of children and their families. Children in foster care are some of the most vulnerable in our society. With a sense of honesty to work towards assisting these children, empathy towards their situations and needs, appreciation for the struggles they may be facing, respect for the workers and families stepping into roles to support the children and trust that the children are now in a safe environment where they can heal and begin to flourish is all a exemplification of what Fostering Hope models. When children come into foster care it is typically a traumatic and sudden transition. Fostering Hope provides children with Bags of Hope to get them through the first few days and weeks of care. These bags are filled with every day necessities; toothbrushes, toothpaste, shampoo, body wash, deodorant and feminine hygiene products for older children and diapers and wipes for younger kids. The bags also include an activity to allow them time to adjust to their new home. These could be items like coloring books and crayons for preschoolers, it could be card or board games for elementary children, or the older kids would receive items like nail polish or small sports equipment. While these items may seem trivial they are items that provide children a sense of normal life during a time period where nothing is normal. The support of Fred Beans Subaru will allow us to meet the needs of more children and families in our community. Through our partnership and donation of Bags of Hope we hope to alleviate some of the stressors these children and families will be experiencing.
---
The Barclay School Loves Learning - Joseph B
Subaru Loves Learning & Fred Beans Subaru supports the John Barclay Elementary School in Warrington PA, through the Adopt a Classroom Program advancing equity in education one classroom at a time. Along with a donation Fred Beans Subaru provided school bags for the 150 students. A donation was made on behalf of the Adopt A Classroom Program for the purchase of educational materials. Bryan Uricchio is our Adopt A Classroom Representative and made the delivery on behalf of Fred Beans Subaru. Special thanks to all our educators who make world a better place for kids.
---
Honoring our Hometown Hero - Marissa M
Recognized for her dedication to helping children overcome challenges and thrive in school, our Hometown Hero, Marissa Meyers was honored at the Philadelphia Union Game on August 4th, 2021 at Subaru Park. September is "Subaru Loves to Learn" month and we could think of no one who does more for kids in need than Marissa! Marissa Meyers is a Practitioner-Researcher at the Hope Center for College, Community, and Justice. She is currently the President of the Board of Directors for the Seybert Foundation, Philabundance board member, and serves on a number of advisory councils in Philadelphia addressing homelessness, foster care, and trauma-informed practice. Marissa holds a bachelor's degree in psychology from Rosemont College and a master's in nonprofit leadership from the University of Pennsylvania. She chooses to share her story of growing up in the child welfare system in Philadelphia personally and professionally with the hope of fostering change, eliminating stigma, and supporting young people to reach far beyond what anyone thought was possible for her.
---
A Little Help for Our Freinds - Caroline J
Thanks to generous offerings from our customers Fred Beans Subaru was able to help with a donation of $600 to Almost Home, a local charity that places shelter dogs in the Doylestown Area. We also took in food donations for the pets. We are grateful for our partnership with Almost Home Rescue and hope the money will help its members continue to provide the care needed for the animals while they are in transition to adoption.
---
Fred Beans Subaru Meet and Greet with Lindy - Carolyn P
Lindy's early life wasn't the greatest. Her owner's moved and left her to die tied up in a laundry bag in their yard. Neighbors heard her after 3 days and brought her to the local shelter in SC. One of the shelter volunteers fell in love with her and adopted her. They had a great life together. Lindy would go to work with her mom and everybody loved her. Unfortunately, earlier this year, her mom died from cancer and Lindy had nowhere to go so she joined Almost Home Dog Rescue in July but hadn't found the right family for her. Lindy went to a meet and greet event at Fred Beans Subaru in October and everyone loved her, several staff members wanted to take her home, including the volunteer who picked her up from the event to go back to her foster home. It turned out that that volunteer adopted Lindy and she had several other takers if it fell through. The entire dealership just fell in love with this special dog. She is now a beloved member of a family. Pictures of her with her new dad and watching her mom sign her adoption papers are included. Thank you Fred Beans for helping to get her to her new family!
---
Make A Dogs Day - Carolyn P
Thank you to all who participated in our Meet & Greet adoption event. Our Subaru Loves Pets Initiative is always a big hit with our customers and the Doylestown Community. Despite the current climate of the pandemic, the turnout was amazing! The beneficiaries were our furry friends, like Lindy who were able to be placed in caring homes. Lindy, an older dog, can also be hard to place, but her temperament made her a "Fan Favorite" among the dogs hosted by our Charity, Almost Home. Fred Beans Subaru was happy to provide the facility and we hope donations will help offset the hard work by our local volunteers. Thanks for all you do!
---
Subaru Entusiasts Shinning Stars! - Monique R
Fred Beans Subaru hosted their first annual car show "COVID19 Style." A parade-style Rallye Event, with DJ and Photography. All proceeds benefitted our Subaru "Loves to Care Charity", The Leukemia & Lymphoma Society. The Rallye started at Nockamixon State Park and ended with a parade through the lot at Fred Beans Subaru at 854 N Easton Rd, in Doylestown. The long line of Subaru's was led by our very own Rallye Driver, Dan Hagey. From the parade of cars, the top 20 were selected. The 20 Finalists were invited to our Video Staging where they were given the opportunity to make "Their Car the Star!" Each finalist gave a video presentation of their Specialty Subaru and a wrap up of why they LOVE Subaru. The presentations were posted to our YouTube Channel for voting. The top three vote-getters were invited back for a photo with their trophies and special Subaru Prize. All proceeds benefited LLS. In all Fred Beans Subaru helped to raise over $14,000 for our charity. We are happy we were able to find a way to make a difference in a very challenging year.
---
Hunger and Nutrition Forum - Thomas C
Fred Beans Subaru was a participating sponsor in the Hunger and Nutrition Forum presented by the Hunger Nutrition Coalition of Bucks County this year at Delaware Valley University. This year's topic was Food Insecurity in Schools. Dr. Maria Gallo, Dean of Delaware Valley University was the host and Marissa Meyers, Community and Justice Practitioner-Researcher at the Hope Center for College was the Keynote Speaker. Marissa's services were provided by Debbie Jankowski of St. Mary Medical Center who gave the introduction. Additionally, a panel discussion was held with the audience and a Q & A session followed. Panel members that represented area school districts and included Natalie Wood, Bristol Township School District, Joe Breraton and Mary McDonald, Central Bucks School District, Christina McGinley, and Samantha Gross, Bucks County Community College and Andee Fisher of Delaware Valley University. A workshop, facilitated by Tammy Schoonover, Bucks County Opportunity Council, followed with audience participation. Finally, Tim Philpot, Director of Financial Stability and Health for The United Way of Bucks County, gave an update of the progress being made through efforts of local and national charities. The closing remarks were provided by Maddie Burgess, Bucks County Housing Group and Heather Foor, of the Bucks County Opportunity Council. The event was eye opening. Marissa Meyers not only enlightened the audience with her informative, statistical and fact-based presentation but wowed the audience when she announced that she too came up through the system and experienced hunger, food insecurity and the anxiety it causes while growing up in group homes.
---
Pathway to Science - Catherine L
Award winning Science Books for grades K-12 were donated to The Pathway School in Norristown Pennsylvania. The Pathway school was chosen for our Subaru Loves Learning initiative. Fred Beans Subaru donated a book for each customer who purchased a car during the month of July. Its gratifying to know that these books will help fill the shelves of the school library enriching students with valuable learning tools for years to come. The Pathway School is a nonprofit approved private school founded in 1961 that serves students with Autism Spectrum Disorders, Intellectual Disabilities, serious emotional disturbances and other neurological impairments. The Pathway School's programs are licensed by the Pennsylvania State Board of Private Academic Schools and approved by the Pennsylvania Bureau of Special Education to serve students ages 5–21.
---
Fred Beans Subaru & LLS bring love to Doylestown! - grace g
On Wednesday, July 10th, the LLS Eastern PA Chapter and Fred Beans Subaru has the pleasure of delivering 80 blankets and arts & craft kits to Doylestown Hospital Cancer Center as part of the Subaru Loves To Care program. These comforting gifts were accompanied by personalized messages of hope written by the customers and staff of Fred Beans.This incredible act of generosity was warmly received by the Doylestown Hospital staff who were thrilled to distribute these comforting gifts to their patients. LLS is proud to partner with Subaru to spread hope, love and warmth to those fighting cancer, across the country and right here in the Doylestown, PA community.
---