When you're looking for a car to cruise around Doylestown and Philadelphia with style and efficiency, you need

  a sedan. These brilliant vehicles find the perfect balance between a thrilling drive and stellar fuel economy - and are the most popular class of car available. This has lead to an extremely competitive market which can make finding the right sedan for your needs difficult.
To make things easier for you, we have compiled this handy comparison between two of the best sedans available. The 2018 Subaru Impreza and the 2018 Mazda3 both have a lot to offer, but only one can be the right choice for you. Learn more about the features these sedans can offer with our Subaru Impreza vs. Mazda3 comparison. With any questions you have while reading, feel free to contact us.
Performance
One of the most appealing benefits of a sedan is how easy they are to drive. Both of these cars can give you a thrill, but the Impreza has a slight advantage. It can corner a bit better than the Mazda 3 considering it has a 34.8 ft turning diameter compared to the Mazda 3's 37.1 ft. Like all Subarus, the Impreza also features all-wheel drive standard. The Mazda 3, on the other hand, doesn't even have it as an option.
In terms of fuel efficiency, the Impreza is superior. Base models generally get the best fuel economy since they have the weakest engines, so we'll start there. The Impreza has a slight advantage with an EPA-estimated 38 mpg hwy compared to the Mazda 3's EPA-estimated 37 mpg hwy. The Impreza maintains its fuel economy throughout all trim levels while the Mazda 3's continues to decrease.
Interior
Despite the fact that the Impreza handles better than the Mazda3, it's actually longer and heavier than the Mazda3. This allows more room on the inside for you and your passengers. When driving, you can enjoy 39.8 inches of headroom and 43.1 inches of legroom. The Mazda3 can only offer 38.6 inches and 42.2 inches respectively.
For passengers, both sedans offer more rear legroom than you might expect, however, the Impreza offers more at 36.5 inches compared to the Mazda3's 35.8 inches. One of the biggest complaints of rear passengers in a sedan is how cramped it can be, but with the Impreza, you don't have to worry.
Technology
One of the defining factors of any modern sedan is its technology. Advanced tech can go a long way to make vehicles stand apart, yet both of these sedans have some of the latest tech available. Infotainment systems have become standard in most modern cars, and both here are no exception. The Impreza has Subaru Starlink while the Mazda3 has Mazda Connect. However, one is a bit better.
Mazda Connect grants access to some of your favorite apps when you connect your smartphone via Bluetooth,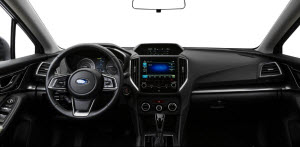 and it's all displayed through a 7-inch touch screen. Subaru Starlink offers more options, however. While it has Bluetooth connectivity, it also features Apple CarPlay and Android Auto. With advanced voice recognition software, you can command the entire system without even taking your hands off the wheel!
Subaru Impreza vs. Mazda3 - Who Wins?
The Subaru Impreza vs. Mazda3 comparison was close, but the Impreza reigns supreme. With its enhanced performance, interior and technology, the 2018 Subaru Impreza stands as the ideal choice for any Doylestown or Philadelphia driver looking for a new sedan. Always make sure you experience it for yourself before you commit, so take it for a spin at Fred Beans Subaru. We're happy to offer all the help and knowledge you need to find the right car for you.
Visit us or call to schedule your test drive today!