Keeping your Impreza running in top shape requires regular attention to your recommended scheduled maintenance tasks. Doylestown and Philadelphia Subaru Impreza owners can enjoy better performance, increased reliability and overall lower cost of ownership when they keep up with the Subaru Impreza Maintenance Schedule as indicated by their Warranty and Maintenance Booklet.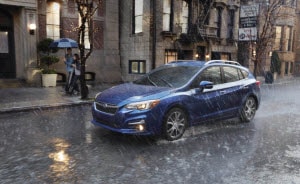 If you own a Subaru Impreza, you can use the following guide to keep track of when you may need your next service appointment. Make sure to always have your vehicle serviced by a licensed Subaru service department in Bucks County like Fred Beans Subaru.
6,000 Mile Interval
Every 6,000 miles, your Impreza will need to have its oil life checked and replaced as needed, along with the oil filter. If your oil is not quite ready for a change, you may receive a recommendation for when to return.
During this service checkup, you will also have all your tires rotated and have a general vehicle inspection performed.
12,000 Mile Intervals
Every 12,000 miles, you will again have your oil inspected and possibly changed in addition to having your tires rotated. Your certified Subaru technician will also inspect your braking system, including all your pads, lining, CV joints, axle boots and other components. In addition, your steering system, suspension and transmission will receive a full inspection. You will also have your cabin air filter replaced.
30,000 Mile Intervals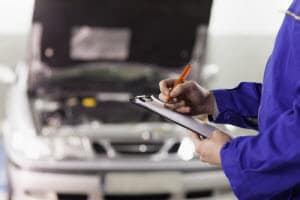 At 30,000 miles and every subsequent interval, you will need to completely flush and replace your brake fluid. Your technician will inspect the coolant system, fuel system, accessory belt and transmission to determine that they are functioning properly. Your engine air filter will be replaced, as will the clutch fluid if your Impreza happens to have a manual transmission. Oil quality will also be inspected, and you will have your tires rotated.
60,000 Mile Intervals
In addition to the service performed at your last 30,000 mile checkup, your spark plugs will be replaced.
Additional Services Performed
At every regular scheduled service appointment, your licensed Subaru technicians will also perform a diagnostics check on your vehicle to identify any possible issues that may need your attention. We also always perform an open recall search for any vehicle issues that require a service or part replacement. All mandatory recall services are performed at no cost to the owner.
Additional services provided include re-lubing of door locks and hinges, oil quality checks and windshield wiper status checks. All replacement parts and fluids provided are official recommended Subaru products as recommended by the manufacturer.
Subaru Impreza Maintenance Schedule: Doylestown, PA
Doylestown and Philadelphia Subaru owners can get the best service and experience possible when they book their Impreza's ongoing service appointments at Fred Beans Subaru. With certified, licensed and experienced Subaru technicians performing thorough inspections and giving tailored recommendations, you can enjoy more reliable performance from your Impreza and have it running just as amazingly as the day you bought it for years to come.
We also work to have any possible service issues covered under your Impreza's warranty agreement when possible.
Get the best service and have your Impreza running better than you imagined when you book your next Subaru Impreza Maintenance Schedule appointment today!