If you're in the market for a new crossover in the Warminster, Doylestown, and Philadelphia areas, you'll have plenty of options to choose from. The crossover class is rapidly becoming the most popular class of car in the country, just narrowly trailing behind sedans. Their incredible versatility has something undeniably appealing about it that many drivers are looking to take advantage of.
Searching for the right crossover can be exciting, but the new Subaru Forester tends to stand out among the rest. To get an idea of what this vehicle is like, it helps to examine the physical dimensions to learn just how much car you have to work with. Learn more about the Subaru Forester dimensions and discover if they measure up to your strict standards.
Subaru Forester Exterior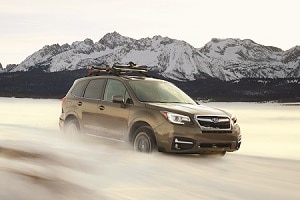 The vehicle itself is surprisingly compact considering how much space it has on the inside for passengers and cargo. Your Forester is just 181.5 inches long, 70.7 inches wide and 68.2 inches tall. The wheelbase itself is 103.9 inches long, and all of these measurements were taken into account when Subaru optimized the Forester for performance.
You'll find that the Forester is surprisingly maneuverable with a turning diameter of just 34.8 feet. There are some sedans that can't manage that kind of maneuverability. There's also an ample amount of ground clearance with the Forester, as you'll be riding 8.7 inches off the ground. That comes in handy if you run into any rough terrain.
Subaru Forester Interior
Inside the Forester, you and your passengers are in for a comfortable ride. Up to five people can fit comfortably inside the 108.3 cubic feet of passenger volume. In the front, you can enjoy 41.4 inches of headroom and 43 inches of legroom. Your rear passengers will be similarly comfortable, enjoying 39.8 inches of headroom and 38 inches of legroom. Shoulder room is also quite generous, coming in at 57 inches in the front and 56.5 inches in the back.
You don't have to hesitate to bring all the important gear with you on your next adventure, thanks to the Forester's spacious cargo area. Even when packed full with five passengers, you'll still have 34.4 cubic feet of space to carry cargo behind the second-row seats. Should you need to carry more cargo than passengers, you can fold the rear seats down to reveal 74.7 cubic feet of cargo space.
Subaru Forester Capability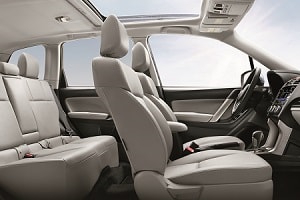 When you need to carry something extra on your next trip that won't fit in the back, you can always tow it behind the Forester. When properly equipped, this crossover has a towing capacity of 1,500 pounds. That's enough to take a dirt bike, jet ski, or a variety of other items with you.
You can also stay on the road for longer without having to stop, thanks to the Forester's generous 15.9-gallon fuel tank. With an estimated cruising range of 413.4 miles in the city and 508.8 miles on the highway, you'll definitely be spending less time at the pump.
Get a Closer Look at the Subaru Forester
Now that you're familiar with the Subaru Forester dimensions, it's time to explore the rest of its features. Come down to Fred Beans Subaru, and one of our friendly team members will gladly show off this crossover for you. After all, you deserve only the best when driving through the Philadelphia, Warminster, and Doylestown areas. Schedule your test drive today!