If you want adventure and plenty of storage space, a Subaru Crosstrek is perfect. This versatile SUV performs phenomenally whether you're on or off the road. What's really important is keeping the Crosstrek running for as long as possible so you can get the most out of it. The best way to keep that engine chugging along is with preventative maintenance.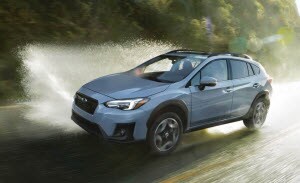 Not only will regular maintenance increase your Crosstrek's lifespan, it will also increase its resale value and save you money in the long run. It's a no brainer, but where do you start with something like that? Even if you know nothing about car maintenance, our handy Subaru Crosstrek maintenance schedule can tell you all you need to know.
7,500 Mile Service
This is the primary service that all the others are built on. Every service will contain this one as well, but don't worry, this one's easy. All you really need to do is get your oil and oil filter changed. Make sure you repeat this every 7,500 miles. The same goes for every other service on the schedules. Maintaining key service intervals is essential for increasing your Crosstrek's longevity.
15,000 Mile Service
For your second service, you need to get your tires rotated. You should be about a year in at this point which isn't too long, but you should still get your brake pads checked. Depending on your average payload, your brake pads could be getting significantly worn.
30,000 Mile Service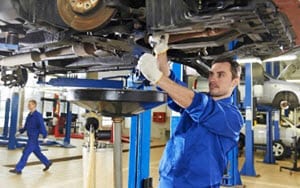 For this service, it's time to swap out your engine air filter and cabin air filter. In addition, it's a good idea to get some fluids flushed and replaced like the brake fluid and the transmission fluid. Be sure to inspect the tread on your tires too. If they're too worn, they may need to get replaced entirely.
60,000 Mile Service
This service may put you back quite a bit, so make sure you're prepared. In addition to repeating every service you've gotten so far, you need to flush and replace even more fluids like the engine coolant and differential fluid. Your belts are also ready to go, so replace your timing belt and drive belt. Get your spark plugs inspected too. You might be able to hold off on replacing those, but don't be surprised if your technician recommends swapping them out now.
135,000 Mile Service
If you've been repeating the necessary services up to this point, then well done. You've had your Crosstrek for about nine years now. Why not get another nine more out of it? There are a few extra steps to preventative maintenance for this service including shock absorber/strut replacement. You also need to get your engine coolant hose replaced and perhaps even your steering component. The big service here is the engine mount replacement which is probably a necessary fix if you want to get much more time out of your Subaru Crosstrek.
Service Center at Fred Beans Subaru
If you're looking for a place to get your Subaru Crosstrek serviced in the Doylestown and Philadelphia areas, look no further than Fred Beans Subaru. Our expert service technicians know everything about the Crosstrek and can perform every service found on your Subaru Crosstrek maintenance schedule. Visit us or call to schedule your service appointment today!