Brake issues are one of the most common and most dangerous problems that drivers can experience when traveling through Doylestown and Philadelphia. And when those issues do start to occur, you may be wondering, Where do I get a quality brake repair near me?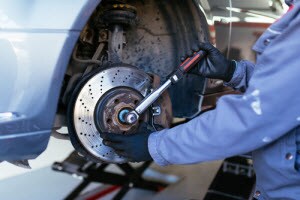 Fortunately, you don't have to go too far to find a trusted place to get your brakes fixed, because Fred Beans Subaru is here to help. But before we get into our services, let's take a peek at some of the common warning signs you may experience when your brakes need to be repaired...
Brake Repair Warning Signs
When your brakes start to deteriorate or malfunction, you may notice a difference in performance or even a few strange sounds when you're driving, especially when you tap on the brakes. These warning signs are typically the first indicators of trouble for the system. So, if you're experiencing any of the following warning signs, get your brakes repaired immediately:
Active brake system warning light
Leaking brake fluid
  Decrease stopping power
Brake pedal vibrates when pressed
High-pitched squealing or grinding noises when you step on the brake pedal
Essential Brake Services & Repairs
When the warning signs listed above start to occur, don't wait! Schedule a brake repair or service immediately! The faster you get the system fixed, the easier it'll be to avoid vehicle damage and even an accident.
Just schedule a brake repair at our service department, and our technicians will get to work. They'll thoroughly inspect your car to diagnose the issue and perform all the services and repairs needed so your car can get back on the road as quickly and safely as possible. From brake pad and rotor replacements to brake fluid leak fixes and system inspections, we can do it all.
Schedule Your Brake Repair Now
Your brakes are the most important safety feature in your vehicle. So, make sure it stays running properly and provide it with the repairs and services it needs.
If you're experiencing any of the warning signs listed above, contact Fred Beans Subaru now or head over to our service department near Doylestown and Philadelphia and schedule your brake repair. 
Additional Resources: