Fall is just around the corner and there's no better way to kick off this cool season than by attending the 39th Annual Scarecrow Festival. This festival brings fun for the whole family with a variety of events to enjoy. Below, you'll find all the information you need to plan your day at the Peddler's Village Scarecrow Festival. Read ahead to learn more!
Quick Event Details
Date: Saturday, September 15, 2018, and Sunday, September 16, 2018
Time: 10 a.m. to 6 p.m. on both days
Location: Peddler's Village, Routes 202 & 263 Lahaska, Bucks County, PA 18931
How Much: Free entry; pay-your-way for events and food
What to Do At the Festival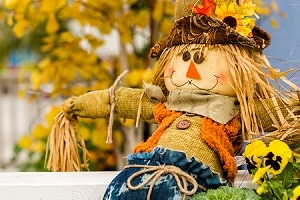 Center stage at the 39th Annual Peddler's Village Scarecrow Festival is scarecrows. Bring your family and friends down to the festival to walk Peddler's Village and take in the many unique scarecrows entered into the Scarecrows Competition and Display. You can also make your own scarecrow at this festival at one of their Scarecrow-Making Workshops.
Sign up for one of these fun workshops and learn how to make your own scarecrow from scratch. These workshops give you step-by-step instructions and provide all the supplies you need including clothing and decorations to finish off your scarecrow. To enter your scarecrow into the scarecrow competition, be sure to fill out an entry form on the Peddler's Village website by September 5th.
After you've made your scarecrow and taken a peek at the many other ones on display, stick around for the live music that'll be playing throughout the festival. Then, grab a bite to eat at one of the many delicious restaurants located at Peddler's Village.
To make the most out of your visit to the festival, opt for the Scarecrow Festival Package. With this, you'll get guaranteed parking, priority restaurant seating, and a plethora of Peddler's Village goodies like a T-Shirt, Festival Guide, and much more.
Fall in Love with Fall at the Scarecrow Festival!
We hope you're just as excited as we are for the start of fall. Kick the season off with us at the 39th Annual Peddler's Village Scarecrow Festival!