Ah, sweet summertime: spending days under the sun, going down to the beach for the weekend, and indulging in delicious frozen treats. Is there really anything more satisfying than a big scoop of ice cream in the summer? Now that we've officially entered August, let's finish summer with the best ice cream near Doylestown, PA. These are some of our very favorite places to grab a cone, listed in alphabetical order.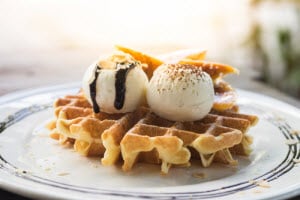 This family-owned business was founded by Louis Zanias, a Belgian native who had the dream of opening up a waffle shop here in the states. This shop has received numerous accolades from a variety of publications. Waffles are still handmade in the traditional Belgian style, and over 100 flavors of hand-crafted ice cream are available. You'll also find a variety of other treats, such as macarons and ice cream cakes. We're drooling just thinking about it.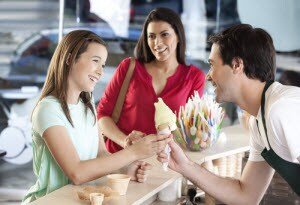 All 40+ flavors of ice cream at Sweet Pea are homemade from scratch, using 14% buttermilk for an exceptionally creamy texture. The shop is proud to serve all products using eco-friendly, biodegradable paper products. Let us describe our favorite flavor, "turtle shell," so you know what you're dealing with here: A base of rich caramel ice cream is studded with pecans and dark chocolate chunks and then receives a caramel weave throughout. Not enough chocolate for you? How about "kandy kake," which features a base of creamy chocolate ice cream mixed through with a freshly baked chocolate cake and a marshmallow weave, and then topped with a crunchy milk chocolate shell. No more explanation needed.
Yogurtree is family owned and operated, and offers a selection of 12 different rotating flavors and over 60 different toppings in a completely custom-designed setting. And we admit it — we know that frozen yogurt is not technically ice cream, but there's something so satisfying about being able to self-serve your own unique mix of flavors and toppings. Plus, it's not like froyo is any less creamy and wonderful to enjoy. An average 8-ounce serving of frozen yogurt is only 200 calories, so you can also feel a little better about indulging in this treat. Don't let anyone try to convince you it's not healthy. Although known for their Frozen Yogurt, they also serve incredible ice cream, gelato and water ice all year long! The options are endless. The results are the same: deliciousness.