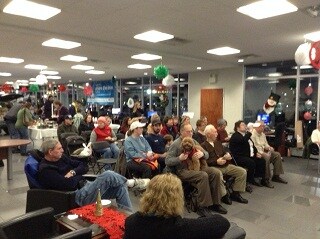 Fred Beans Subaru played host to group of special presenters in honor of its hometown charity The Nexus School. The event theme was Animals as Therapy. Each presenter offered their stories about the services they provide.
The first presenter, Mark Zebrowski, has 5 Black Labs, each with their own personality and temperament. Mark works along in conjunction with numerous healthcare services and offers his dogs as therapy to the sick and disabled. He matches the patient with the dog based on their condition. The Labs were a big hit with the crowd as they were offered their warm and friendly personality during a pre event meet and greet with Elliott, Oliver, Artemus, Ignatius and Sebastian .
Next were David Parnes and his poodle Billie. Billie is also a therapy dog. David works mostly with hospital patients in the New York City Area. Billie is a real entertainer. The fun loving poodle is a natural with kids and does a few tricks as well. Mr. Parnes treated us to a karate demonstration with little Billie spinning and kicking.
We also invited a few guests from the Special Equestrians of Warminster. Dr. Denise Quirk and Mary-Jo May were our hosts. We learned how riding horses can be great therapy for those with special needs. The Equestrians have accomplished some amazing things using horseback riding as the technique. There is something special in the gait of the horse that matches the human walk and can do some incredible things for disabled, handicapped and autistic riders.
The evening wrapped up with a talk from Nancy Saxe of Never Ending Paths. She uses animals as therapy for her patients. Animals' offer a grounding quality and their unconditional devotion and love can be a great aid to healing the psyche.
The event was so well received that we are planning to do a follow up event in the spring. Anyone interested in participating or attending can contact the dealership.