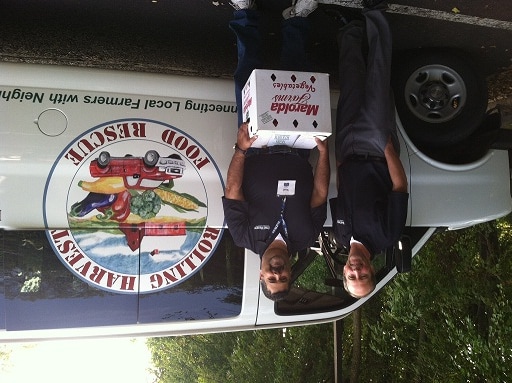 Thomas Connelly and Neal August joined the Bucks County Opportunity Council on Thursday picking up, delivering and packaging food for the local pantries of Central Bucks County. Food for the program is donated by local growers. Cathy Snyder, Director of the Rolling Harvest Food Rescue, has orchestrated a network of local Produce Growers who are willing to contribute a small portion of their crops to local food banks.
The produce was picked up in Southampton where it is collected and distributed. Neal and Tom loaded the portion designated for the Central Bucks Pantrys and delivered it to the grounds of the New Britain Baptist Church. From there, the food is unloaded, separated and sorted into smaller portions for distribution to the local groups.
The volunteer group is assembled through the Bucks County Opportunity Council. Eileen Albillar is the Volunteer and Community Connections Manager. She organizes the volunteers, assigns individual tasks and works along with the rest of the group to prepare the produce in time for the pantry deliveries.
The program assures the needy will not only be fed, but that they'll receive nutritious healthy food directly from the local farms. Thanks to dedicated, hardworking people like Eileen Albillar and Cathy Snyder, those in need will not only be fed, but they'll be eating a healthy diet.