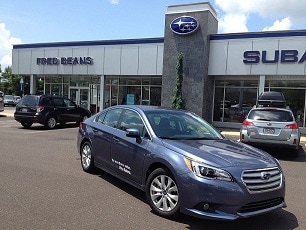 Fred Beans Subaru featured the 2015 Subaru Legacy at Fine Arts and Contemporary Crafts Festival at Peddlers Village earlier this month. The featured vehicle, on loan from Subaru, was also avaible for a one day test drive event at the store. The vehicle was very well received. The most popular feature was the new Starlink System, which will eventually become a mainstay for all new Subaru vehicles. We expect to have our first official vehicle by the end of June, with regular deliveries starting in July.
From a recent review, renowned automotive consultant Al Haas, of the Philadelphia Daily News states ... So the automaker set out to build a handsome sedan that would rival or exceed the competition. And given my test drives of several models at a recent press review, I would say it succeeded.
The new Legacy highlights include:
1. Most fuel efficient All Wheel Drive Sedan in its class featuring 36mpg on the highway.
2. Largest interior volume in its segment.
3. Lighter more fuel efficient V-6 with CVT.
4. "Best in Class" Eye-Sight with Adaptive Cruise, Lane Departure Warning, Blind Spot and Rear Cross Traffic Alerts.
To schedule a visit, give us a call at 888-697-0179 or visit us online @ www.fredbeanssubaru.com