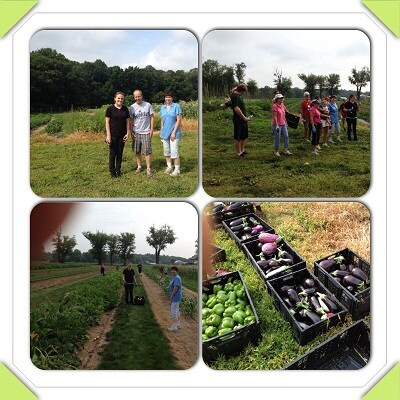 Helping Hands
Kelsie, Tom, and Sheryl spent a morning at the community gardens on Delware Valley College Campus Grounds. As part of the Central Bucks YMCA Volunteer Team, they worked and learned about growing and harvesting crops thanks to Steve Smith and his crew of the Deleware Valley College Faculty/ Student Body. The gardens located on Lower State Rd in Doylestown are home for the Hope of the Harvest initiative.
Hope of the Harvest is a partnership between Delaware Valley College, Philabundance, the Bucks County Opportunity Council, The United Way of Bucks County, The Land O'Lakes Foundation, The Reinvestment Fund and The Lehigh Valley Community Foundation/ Pharo Family Fund.
The project uses college land to grow fresh, nutritious food for area food pantries. It was started in 2012 with one acre on DelVal's main campus in Doylestown. During the first year, the project produced nearly 16,000 pounds of produce for people in need in the area.