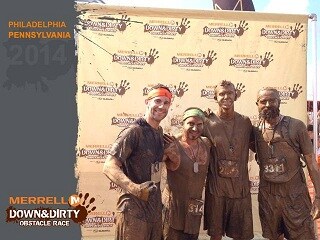 Mark Rio 2nd from Left
Assistant Service Manager Mark Rio recently participated in the Merrell Down and Dirty Mud Obstacle Course on July 27 at Warminster Park in Hatboro. The race benefits Operation Gratitude a Non Profit group that provides care packages for our troops stationed overseas. The course involves a series of rope ladder climbs, descents, crawling through mud pits, scaling walls, walking on balance beams, monkey crosses, marine hurdles and many other grueling challenges.
Subaru is a major sponsor of the tour and anyone driving a Subaru receives priority parking at the site. Marc said he never saw so many Subaru s in one place. At the end of the race, each participant placed his or her muddy handprint on a brand new 2015 Subaru Outback as a final stamp of completion.
Subaru, Merrell Gear and Outdoor Adventure a perfect fit. We re proud of Marc and his participation in such a worthy cause. Great Job to all and congratulations to the finishers!